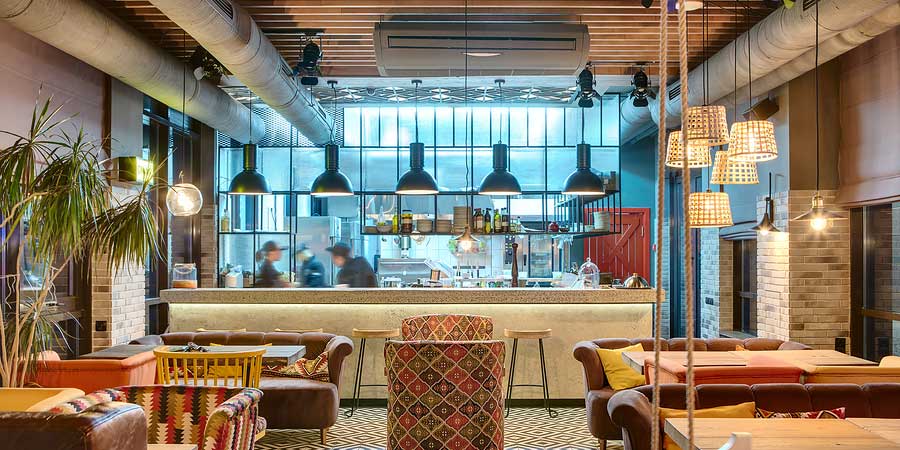 When it comes to designing the overall aesthetic of your restaurant, you have to decide what kind of vibe you want to show off to your customers. Do you want to give off a warm, cozy feeling? Or are you looking for something more modern and industrial?
While there's nothing wrong with a cozy diner, many business owners are turning to the newly popular industrial style for their shops and restaurants. This modern aesthetic is characterized by Edison bulb lighting, reclaimed wood, concrete, steel and metal surfaces, and above all, exposed ductwork, which leaves spiral duct fittings and pipes exposed. We've written about the rise of industrial design before, but there are many benefits of having your spiral duct fittings out in the open, so let's take a look at a few of the benefits of exposed ductwork in restaurants and shops.
First, there will usually be much more natural light in your space if you were to leave your ceiling exposed. There would be nothing blocking off the top portion of your room, leaving you with ample space for natural light to travel. This effect is especially prominent if your building faces south, as that's the side where the most light will enter through.
Next, exposed ceilings with spiral ductwork and a labyrinth of pipes gives off a bit of character. As previously stated, more business owners are leaning toward the unfinished, raw, and industrial look, which patrons instantly associate with modern design. Having the ceiling open is more visually appealing than one that is closed off with cheap foam boards or stucco. It gives the guest something to look at and something to potentially comment on. It's great as a conversation starter, not to mention the perfect background for selfies.
One last benefit of exposed ceilings is that it opens up the room. A traditional closed-off ceiling often makes the room seem much smaller than it actually is. By opening up space and completely getting rid of the dropped ceiling, you're allowing the room to flow in a much more open way. Even when your space is completely full of guests, the space won't feel cramped and crowded due to the wide open effect of exposed ceilings.
Exposed ceilings with spiral ducts are a great way to spice up the look of your space. Today, 90% of homes in the United States and virtually all commercial spaces feature ducted heating and cooling systems, so why not make these components a part of your restaurant's design? Making the decision to leave your ducts and other piping out in the open gives you the ability to explore new design options and lighting choices.
Have questions or want to check availability?
Contact us today!