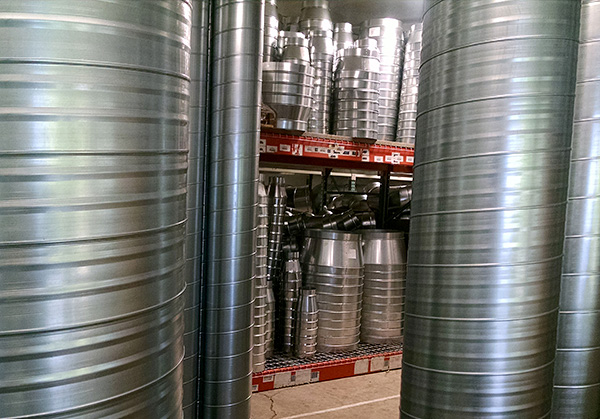 SPIRAL DUCTWORK
Here at DC Duct, we specialize in sheet metal fabrication and ductwork for a number of diverse applications. Our spiral duct, oval duct, and fittings are all manufactured to current SMACNA guidelines 3rd edition 2005. We stock thousands of feet of spiral duct and fittings, but we can also help you fabricate ducts to your specific needs. No matter the use or application, DC Duct offers a variety of sheet metal and ductwork solutions.
Spiral ductwork offers a clean and contemporary look, but its appearance isn't the only advantage spiral has over other types of duct. There are also a number of practical benefits you should know about.
Spiral ductwork is cost-effective, resistant to leakage, relatively quiet, and much more efficient that traditional rectangular duct.
If you can draw it, we can make it.
THE BENEFITS OF SPIRAL DUCT
Lower cost
The installation of spiral ductwork — including labor, transportation, warehousing, and packaging — can cost up to 50% less than traditional rectangular duct. Because of its strength and rigidity, spiral duct requires fewer supporting components and fewer tools to install. It is typically made of a lighter material than rectangular duct, which makes installation easier; in fact, it can often be installed by just one or two people rather than a whole team.
Higher efficiency
Air leakage at duct joints is a common problem for traditional rectangular ductwork, which leads to energy loss and poor system efficiency. Spiral duct systems, however, typically meet or exceed industry air-leakage standards. With less leakage, the cost of heating, cooling, and filtering conditioned air is much lower and indoor air quality is a lot higher. The spiral design of the system keeps internal air pressure equal, allowing the air to flow evenly and efficiently.
Less noise
Noise breakout is another issue that is common with rectangular ductwork. The design of the rectangular system causes air to move around sharp edges, dampers, and turning vanes. This obstruction contributes to noisy turbulence; however, spiral ducts have smoother edges that eliminate reverberation, creating less noise.
Have questions or want to check availability?  Contact us today!