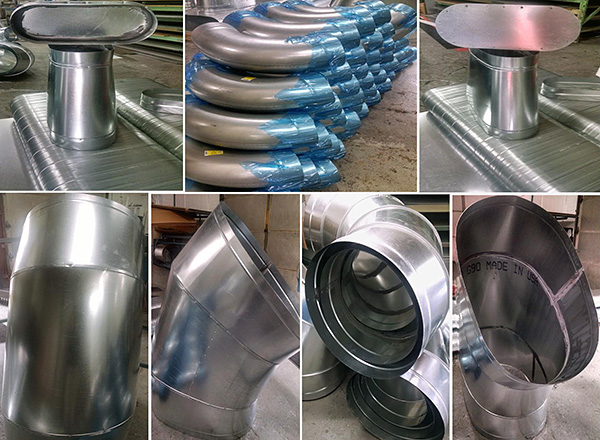 SPIRAL and OVAL DUCT FITTINGS
HVAC systems account for 40% or more of a building's annual energy usage. That means that in order to minimize utility costs, you must install the most efficient equipment, which requires fully understanding the differences between duct systems and the impact of duct leakage.
When conditioned air leaks from the supply ducts, this poor airflow has a serious impact on energy costs and system performance. But what causes the leakage in the first place?
There are three key elements that can contribute to ductwork leakage – material, shape, and sealing of joints and fittings.
If you can draw it, we can make it.
AVOIDING DUCTWORK LEAKAGE
Materials
While ductwork can be constructed from a variety of materials like aluminum, stainless steel, fiberglass, and PVC, the most commonly used material is galvanized steel. When it comes to shape, you have three options – rectangular, spiral, and oval spiral. Most engineering experts, when designing for efficiency, use spiral duct or oval spiral duct.
Here's why:
Spiral ducts provide the lowest possible friction loss for a given perimeter
Spiral ducts require fewer supports per foot
Spiral ducts can handle higher air velocities
Spiral ducts are the least expensive to seal to reduce air leakage
Spiral ducts have the lowest weight with the same airflows, pressures, and friction loss
Proper sealing

A duct system that is properly sealed will significantly reduce leakage, making the building more comfortable and energy-efficient. In fact, leaky ducts can minimize heating and cooling system efficiency by as much as 20%, which is why sealant is so important. There are several different methods of sealing ductwork, including mastic sealant (resin-based adhesive), metallic tapes (true "duct tapes"), and gasketed fittings and connectors. For a building with the popular architectural style of exposed ductwork, the sealing method will require careful attention in order to preserve the visual aesthetics of the interior design.
Airtight fittings

Having airtight spiral duct fittings or oval duct fittings (depending on the shape of the ducts) is another way to ensure that little airflow is lost as it travels through the ducts. The Sheet Metal and Air Conditioning Contractors' National Association (SMACNA) HVAC Systems Duct Design Manual recommends using the minimum number of fittings because it is at these parts that turbulence reduces airflow.
The key to reducing leakage and moving air efficiently through the duct system is to pay close attention to the material, shape, and sealing of the ductwork. The skilled team of sheet metal and ductwork fabricators at DC Duct has the equipment and knowledge to produce whatever system is specified for your project.
Have questions or want to check availability?  Contact us today!